Web UI bug: single quote handled incorrectly
I'm trying to report a software bug but it seems not a single way to contact mailbox.org as a light plan user exists besides this forum, so I hope someone from the company sees this. It's not a support request nor am I asking other users for tips (I mean, you're welcome to discuss, of course).
When pasting a classic "name <email>" string into the To field of the editor, if the name contains an apostrophe, it counts as a string delimiter and part of the name is cut. See this screenshot where I pasted the selected text and "Marnick L'" is cut: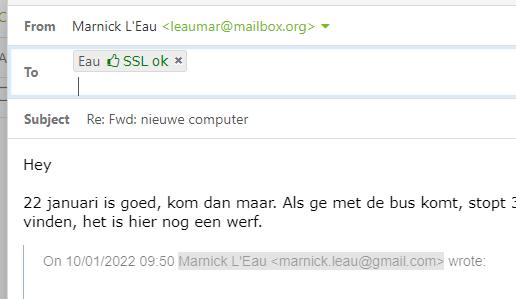 So basically the apostrophe (and perhaps others, didn't test and don't know what your framework is) should be escaped during event handling.
Source: I'm a software dev and my name has an apostrophe, I report this class of bugs more often than I'd like...
Very happy overall with mailbox.org since switching though, thanks